DATA CENTER TURNKEY SOLUTIONS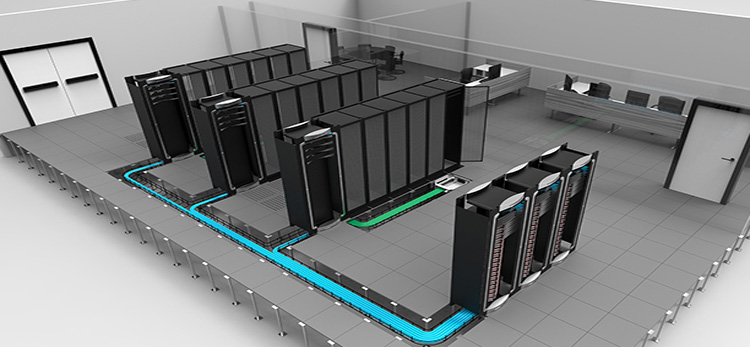 Site Selection
Few of the factors considered during Datacenter site selection are size of the room, future expansion, obstructions, entry and exit considerations, floor loading, access to services like cooling ODUs, Electrical input, Earthing, Safety & Security etc. Our expert team visits your site and we decide best suitable location from the available options considering your current and future requirement.
When site preparation requirements for Server Room are to be prepared, it is necessary to cope with the project need and the physical environment. Advice on the following aspects should be sought from computer vendor(s):
Weight and dimensions of the computer equipment.
Electrical requirements of the computer equipment.
Total heat dissipation and cooling requirements of the computer equipment.
Types of signal cables.
Equipment footprint with clearance for maintenance and operation.
General Requirements and consideration for site selection:
Sufficient floor loading for computer equipment, air-conditioning system, raised floor and emergency power supply system.
A minimum require headroom (lowest point of ceiling to structural floor) of 2.8m is recommended.
In less heavy industry or corrosive air areas to avoid contamination.
Not on top floor or ground floor or the basement of the building to avoid solar heat absorption or flooding.
Away from dangerous goods storage, mechanical shock, excessive vibrations and high fire and water risks areas.
To eliminate the effect of electromagnetic interference, Server Room should be located away from generator room, lift plant room, or in some cases, the radar or telecommunication control rooms.
Sufficient transportation facilities for equipment movement to Server Room (e.g. lift service and passage clearance).
Cooling System:
Split and Cassette AC
Ductable / centralise AC
Precision AC
In-row Cooling Unit
AHU and FCU
Air and Water cooledchiller
Active grilled tiles
Damper and Diffusers
Condenser and Evaporator coils
Precise Air Conditioning
Precision air conditioning technology provides reliable cooling that is geared towards the requirements of technical infrastructure. Dedicated technology rooms in data centers or switching stations require precisely controlled relative humidity, room temperature, air conduction and air distribution. Computer equipment generates heat, and is sensitive to heat, humidity, and dust, but also the need for very high resilience and failover requirements. Maintaining a stable temperature and humidity within tight tolerances is critical to IT system reliability.
In most server rooms "close control air conditioning" systems, also known as PAC (precision air conditioning) systems are installed. These systems control temperature, humidity and particle filtration within tight tolerances 24 hours a day and can be remotely monitored. They can have built-in automatic alerts when conditions within the server room move outside defined tolerances.
Air conditioning designs for most computer or server rooms will vary depending on various design considerations, but they are generally one of two types: "up-flow" and "down-flow" configurations.
Precision cooling size is decided by the heat load of servers, current and future expansion, Room losses. The cooling media can be water or refrigerant gas. The selection of cooling unit is decided on the heat load per rack. For cooling up to 5 KW per rack, perimeter cooling can be used. The cooling technique changes for higher power densities.
Our expert team visits your location and decides the right make, model based on design and site conditions.